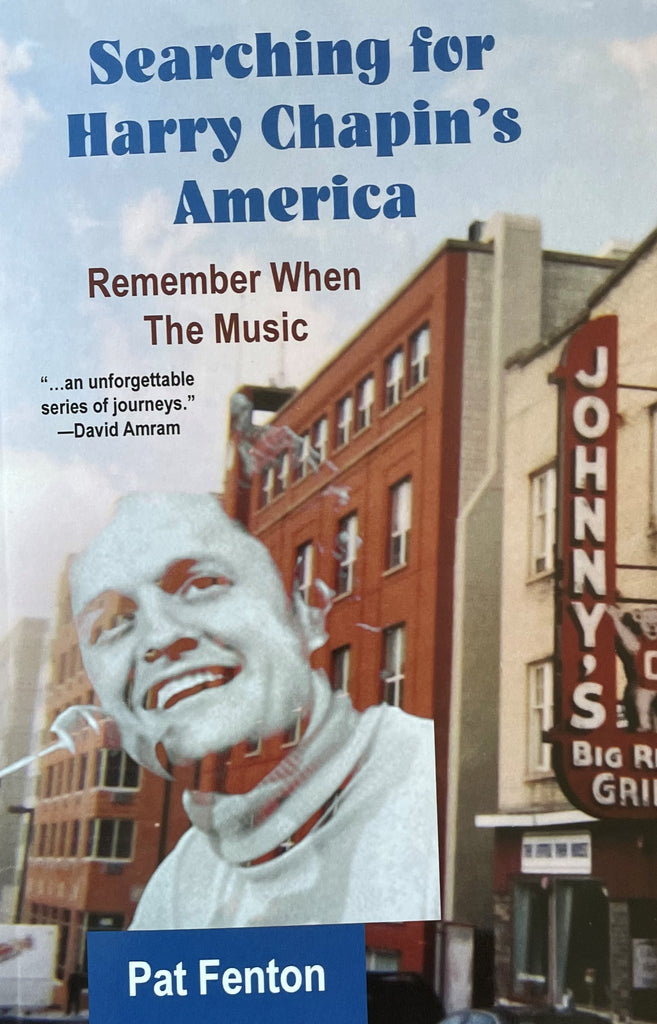 SEARCHING FOR HARRY CHAPIN'S AMERICA
$17.00
In Searching for Harry Chapin's America, journalist Pat Fenton describes his road trips to the towns and people that inspired Harry Chapin's most renowned songs. Fenton's account includes exclusive interviews with Chapin's family and associates, and an excerpt from Chapin's unpublished writings.
Harry Chapin (1942-1981) was a legendary top-charting American songwriter in the 1970s and '80s. During his lifetime, Chapin was nominated twice for a Grammy Award: in 1972 for Best New Artist, and in 1974 for Best Pop Male Vocal Performance. In 2011, thirty years after his untimely death, Chapin's Number One-charting song, "Cat's In the Cradle," was inducted into the Grammy Hall of Fame. Searching for Harry Chapin's America is a fortieth-year commemoration of this musical icon's tragic death in a car crash in 1981, a tribute to his legacy of songs and philanthropy.
"Searching for Harry Chapin's America is an invaluable book to celebrate Harry Chapin's music and his legacy. Like Don Quixote, or On the Road, Pat Fenton's classic book takes you on an unforgettable series of journeys and makes you feel that you are now welcome to be with the people and places that Harry Chapin memorialized in his timeless songs. It was worth waiting 30 years to have this story told so compellingly."  -David Amram, composer/multi-instrumentalist/author
"A portrait of an age as well as an artist. Chapin was an American original who combined Walt Whitman's lyric realism with Woody Guthrie's passionate truth-telling. Fenton's blend of sympathy, honesty and insight gives us the man in full. Fenton's talents as a master storyteller have never been on better display."  -Peter Quinn, novelist/political historian
"The perfect marriage of author and subject. Fenton doesn't just trace the roots of Harry Chapin's music; he dares to explore the American soul, extracting from it much of the pulmonary essence that made Chapin such a classic American troubadour. By illuminating the physical and spiritual landscape of Chapin's artistry as a songwriter and voice of the common American, Fenton delivers a gem. Get this book, read it, and pass it on to someone you care about."  -T. J. English, New York Times bestselling author
"Patrick Fenton has written a unique appreciation of a musical artist's work by going on tour in the footsteps of Harry Chapin and listening to the American Everyman tell the other half of this timeless troubadour's wonderful story-songs. In the clear, beautiful prose of a blue-collar scribe, Fenton records the thumping heartbeat of the American heartland that keeps the music and stories of Harry Chapin alive, decades after his death."